About the Staff of Melville Montessori Pre-Primary School.

Group Selfie
Staff Birthdays
30 January - Linda
15 February - Lindi
13 March - Silvia
5 April - Carel
6 May - Anne
17 May - Arifa
15 June - Hayley
26 June - Mary
6 July - Antoinette
3 August - Jacqui
25 November - Thandi
24 December - Margaret

Jaqui Oosthuizen-Sinner - Principal
I grew up in Montgomery Park and I lived in one home from birth until I left to continue my studies. I have a brother four years my senior with whom I have a very bonded relationship. My mother's priority was clearly her family and gave fully of herself to us even though she kept a full time job. Both my parents are wonderful grandparents to my children and are dearly loved in return by them. My daughter is an active assistant at the school and spends any free time during her holidays working/playing with the children. I attended a finishing school for girls in the Johannesburg CBD (many years ago!!!!) and completed my post matriculation studies in London at the London College of Montessori where I lived for four years. The opportunity arose for me to start a school in South Africa or to stay on in the UK and start up a nursery with a very close friend of mine. However, home is home and my family were all here. I returned and opened up MMS, after obtaining consent usage and going through all the legalities of the establishment of a place of education for pre-school children. The school has just turned twenty and as far as my children are concerned MMS is my second greatest achievement.
---
Hayley Mulder- Deputy Principal
Aqua Champs Swimming School – Hayley Mulder (Professional Swimming Instructor) 083 214 4382
I grew up in Alberton and have a sister and brother. I am married to Gerhard, who is an accounts manager at MTN Corporate and have a beautiful daughter, Brooke (8 years old) who attends Waterstone College and a 3 year old son. From a young age I had always wanted to work with children and after matriculating at Bracken High School, I qualified as a Montessori Directress at the Modern College of Montessori. I joined Melville Montessori in 2001 and thoroughly enjoy teaching in the fine motor and art areas. I oversee both annual concerts along with our music teacher Linda Hutchison. I am an avid sporting person and am currently active in indoor sports such as netball, cricket and soccer. I am a qualified swimming teacher and will be conducting classes in the afternoons at Melville Montessori. I value the Montessori method of teaching and firmly believe that this lays a solid foundation for future successful learning.
Hayley also offers Aqua Champs swimming lessons for Melville Montessori children only. Click here to download the Swimming lesson enrolment form
---
Arifa Banday
I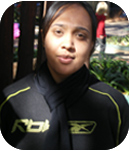 was born in Lenasia and spent my childhood growing up in a secure, happy home with my parents, grandmother and sister. Our family moved to Mayfair when I was thirteen years of age. I did my schooling and matriculated at the Johannesburg Muslim School. Thereafter in 2006 I qualified as a Montessori Directress from the College of Modern Montessori and have been teaching ever since. I am the language directress.
I have a beautiful 1 year old daughter.
I love working with pre-school children and creating a solid foundation for them. I am extremely happy at MMS and hope to continue my journey here as your children's directress.
---
Linda Hutchison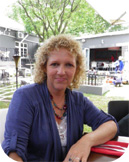 Born in Pretoria and raised in Cape Town, I matriculated at Groote Schuur Hoër Skool with music as one of my matric subjects. During this time I completed the Royal Schools Piano Exams, Grade 8 level, tutored by Nel van Oudshoorn.
I relocated to Johannesburg when awarded a bursary to study at Wits University. After completing school and before reading for my degree at Wits, I completed a 3 year diploma course at Maas Philips School of the arts in Cape Town, where I studied drama, music, movement, broadcasting and basic speech therapy. While there, I had the privilege of producing and directing numerous musicals up to and including high school level.
While still living in Cape Town, I completed three years of voice (singing) training under Ethne Seftel. Fifteen years of classical ballet under the tutelage of Hazel Kitkat and later Kathy Lingaard were followed by three years of Laban movement under the guidance of Patricia Whittock.
At Wits University I completed a BA (Legal) degree, retaining my contact with music, by singing in the Wits University choir. Deciding that it was finally time to enter the job market, I was fortunate enough to become a trainer in a computer company. My term as a full time computer trainer in a corporate environment continued for eighteen years. During this time, I was involved in various choirs, both as the leader of various church choirs as well as a part-time organist.
Deciding that it was time to return to my first love, i.e. skills learned at drama school, I became a partner in a recording studio. While there, I was fortunate enough to become "the voice" for Academy of Learning in South Africa, a position that I held for a number of years.
"I teach music at Melville Montessori Pre-primary School twice a week and iPad classes once a week. In addition to this, I run a theatre troupe workshop once a week and a baking class once a month at MMS. I am married to a civil engineer, and have three children."
---
Silvia Hillebrand
My name is Silvia Hillebrand and I was born in Vienna, Austria in 1977. I came to South Africa when I was eight years old. I attended the German School until 1995. After school I spent a year in Paris, France, as an au pair. In 1997 I went to Rhodes University to study Journalism, but changed my degree to study Sociology and Psychology. In 2000 I completed my Honours Degree in Developmental Sociology at Wits University. After Honours, I decided to spread my wings and therefore travelled to South Korea to teach English and stayed there for three years. I was teaching mainly kindergarten children and absolutely enjoyed it. For six months I worked at a Montessori school there and decided, at the end of my contract, that I wanted to return to South Africa to do a Montessori teaching diploma. This I did and after studying I started working at Melville Montessori, where I have been ever since. I really think that teaching is my calling and I absolutely love feeding young children with an abundance of knowledge. I am the cultural directress at MMS. During my free afternoons I teach young children German.
---
Antoinette van Zyl
My older brother and I were raised in Melville, Johannesburg, where I lived from birth to when I completed high school in the year 2000. After I matriculated, my parents encouraged me to "spread my wings" by living and working in different environments in order to grow and gain valuable life lessons. I worked for various companies as a receptionist/office administrator, but realised that I was happiest when working as an au pair both overseas as well as locally in South Africa. This realisation was the start to a whole new chapter in my life, as I pursued a career through my studies at the Montessori Campus in Randburg. I was fortunate and blessed to be employed by Melville Montessori Pre-primary School after completion of my studies, and continue to value the opportunity to work alongside a dedicated staff, and assist in the development of young bright minds.
---
Anne Oosthuizen
School Bookkeeper
---
Lindi Tshabalala
Lindi is responsible for the running of our Organic Kitchen Programme. Lindi has been employed at Melville Montessori since 2001 and has 3 children.
---
Carel Maake
Carel is the security guard at Melville Montessori. He oversees all maintenance at the school and is the loveliest guard that we have had.
---
Marilu Murray-Play Therapist
Trauma Counsellor (Play Theray)
BA (hons) Psychology
Contact number: 072 233 3506